Residents in this independent living community don't miss any opportunity for party time!
With more than 50 mature living apartments, there's always someone to share a celebration with. It seems that the candles are no sooner out on one cake than they're being lit on another.
Party Time for an 80th Birthday
This time it was the turn of Carol, and everyone to help celebrate her 80th birthday.
Of course there was a cake, specially made for the occasion, and a buffet prepared by our own in house chef. Lots of laughter and merriment were enjoyed by all, along with the entertainment.
Take a look at the photos…
Here's a selection of photos taken at the party. Don't forget to Like the ICare Links View Facebook page.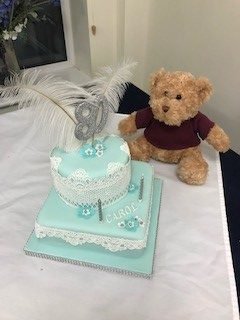 Do you know someone who would enjoy life at Links View? It's got to be one of the best retirement
communities here on the Fylde Coast, where you're safe but independent.
Why don't you get in touch? Just ring 01253 721678 and arrange to come for a look around.